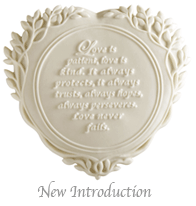 Love Never Fails Heart
Olive branches of peace are woven around the words: Love is patient, love is kind. It always protects, always trusts, always hopes, always perseveres. Love never fails.From the famous love chapter 1 Corinthians 13, these words touch our hearts deeply and inspire us to persevere in love and never give up. This heart is especially designed for weddings, anniversaries and for love gifts of all kinds like saying thank you on Mother's Day.
Love Never Fails Heart will ship on May 5, 2009.
$20.00 3.75" 2009
Promise Wreath

The Promise Wreath in its circular form represents eternity. The details of oak leaves, acorns and shells remind us of God's promises of abundance and harvest here on earth as well as in heaven.

The scripture on the back of the package is from John 10:10. "I am come that they might have life, and that they might have it more abundantly."

$20.00 3" Introduction 1996





Morning Star

Margaret designed this star and introduced it with her first angels in 1980. This star is named to honor the Bright and Morning Star, which brings light to our lives every morning.

The steadfast love of the Lord never ceases.
His mercies never come to an end;
they are new every morning.
Great is His faithfulness.
LAMENTATIONS 3:22-23

$15.00 3" Introduction 1980





Star In The Night

This slender and delicate star seems to twinkle on the tree, as if its radiating light was captured and frozen in porcelain. Let this symbol of light shine in your home during Christmas and all year round.

$15.00 2.5" Introduction 1991