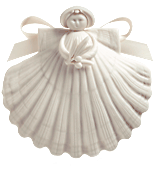 Fruit Of The Spirit Angel
"But the fruit of the Spirit is love, joy, peace, patience, kindness, goodness, faithfulness, gentleness, self-control; against such things there is no law."

GALATIANS 5:22&23
With an olive branch in her hand to represent the Holy Spirit, this angel reminds us that we must depend on Him to grow this fruit in our lives. The fruit is the overflowing of the Holy Spirit Himself in us. The fruit of the Spirit is also called the gifts of the Holy Spirit so we can ask for them, expect them and believe that the Holy Spirit will be a generous gift giver.
Acrylic two-part easel included.
$32.00 4" Introduction 2010
The Promised Land Angel

"For the LORD thy God bringeth thee into a good land, a land of brooks of water, of fountains and depths that spring out of the valleys and hills; A land of wheat and barley, and vines and fig trees, and pomegranates; a land of olive oil, and honey;"


DEUTERONOMY 8:7&8

What a promise to pursue. This angel holds a fig to represent the Promised Land, that place where we can rest and leave the rest to Him if we will only believe in His promises.
Acrylic two-part easel included.

$24.00 3" Introduction 2010





Fruit Of The Vine Angel

Eventually, if you will not give up, the fruit will come. This little angel celebrates that much anticipated fruit; her hands are filled with a ripe, sweet bunch of grapes.

I am the vine, you are the branches: he that abides in Me, and I in him, he brings forth much fruit: for without Me you can do nothing.

JOHN 15:5

Acrylic two-part easel included.

$19.00 2" Introduction 2010





Love Flew In Heart

Love Flew In and stayed, held captive by attitudes of forgiveness and acts of unselfishness.
Send this light hearted gift to a loved one as a reminder that your love has landed and is here to stay.

$15.00 3.5" Introduction 2010











Winter Pin Collection




The Winter Pin Collection pins are displayed on these pink cards to celebrate the Valentine's season. Every pin comes in an elegant gift box ready to give to each of your sweetest Valentines.





Cross Of Good News Pin

God so loved the world that He sent His only begotten son that whosoever believeth in Him should not perish but, have eternal life.

$9.00 3/4" H Introduction 2010





Dancing Star Pin

The joy of the Lord is my strength.

$11.00 1-1/2" Reintroduction 2010





Fruit Of Love Heart Pin

The sweetest heart of love. Sweet strawberries decorate this heart to symbolize that our love is the fruit of God in us.

$11.00 1" Introduction 2010





Heart Wreath Of Flowers Pin

Every newly formed blossom is a symbol of hope. This heart shaped wreath of tulips, primroses and crocuses reminds us that in God's love, hope springs eternal.

$11.00 3/4" Reintroduction 2010





Hobnail Heart Pin

The tender bud of Bleeding Heart flowers inspired this delicate heart form.

$7.00 1/2" Introduction 2010





Lily Of Hope Heart Pin

A lily in full bloom bursts out of a heart of love.

$11.00 5/8" Introduction 2010





Love Heart Pin

Love's power lifts hearts to joy.

$9.00 1" Introduction 2010





Love Remembers Heart Pin

The tiny forget-me-nots surround the sweetheart roses.

$9.00 3/4" Reintroduction 2010





Love Token Heart Pin

Remember how much I love you.

$11.00 1-5/8" Introduction 2010





North Star Pin

Follow this star to Jesus.

$7.00 3/8" Introduction 2010





Shell Cross Pin

Empty cross of victory.

$9.00 1" Reintroduction 2010





Shell Heart Pin

The tender love between mother and daughter inspired this simple and sweet heart.

$9.00 5/8" Reintroduction 2010





Shield Of Faith Pin

Take up the shield of faith to stop every fiery dart from the evil one.

$9.00 1" Introduction 2010





Snowflake Pin

Celebrate God's infinite collection of crystal designs.

$9.00 1" Reintroduction 2010





Winter Jewel Pin

Under the blanket of snow lays the promise of tomorrow.

$9.00 7/8" Reintroduction 2010