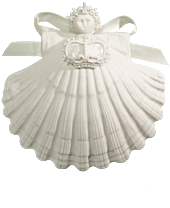 Thy Kingdom Come Angel
This dear angel welcomes you into the Kingdom of God. Her crown represents God's Kingdom and its fleur-de-leaf decoration, a symbol of royalty, signifies God's incredible offer to enter into His royal realm while we are yet in the land of the living.
"Our Father which art in heaven, Hallowed be thy name. Thy kingdom come, Thy will be done in earth, as it is in heaven. Give us this day our daily bread. Forgive us our debts, as we forgive our debtors. And lead us not into temptation, but deliver us from evil: For thine is the kingdom, and power, and the glory, forever. Amen."

MATTHEW 6:9-13
Acrylic two-part easel included.
$32.00 4" Introduction 2008
Good News Angel

WHOSOEVER calls on the Name of the Lord will be saved: Jesus, come into my heart and forgive me of my sins. I give You my life right now and turn my back on the world and sin. Help me fulfill everything you have called me to do. I thank You that I'm now forgiven and on my way to heaven! In the precious Name of Jesus AMEN!
Acrylic two-part easel included.

$24.00 3" Introduction 2008





Love In Flight Angel

Love is patient, love is kind. It does not envy, it does not boast, it is not self-seeking, it is not easily angered, it keeps no record of wrongs, Love does not delight in evil but rejoices with the truth. It always protects, always trusts, always hopes, always perseveres. LOVE NEVER FAILS.


1 CORINTHIANS 13:4-8

Acrylic round easel included.

$19.00 2" Introduction 2008





Acrylic Two Part Easel Set Of 4

Two Part Easel for 3", 4", & 5" Angels. Comes in sets of 4.

$8.00 2 1/8" Introduction 2008





Acrylic Round Easel Set Of 4

Acrylic Round Easel for 1-1/2" & 2" Angels. Comes in sets of 4.

$6.00 1" W Introduction 2008










Fall Pin Collection

We never tire of the heart image because it represents the most powerful and precious commodity in life: love. As a gift the Love Token Pin is a sweet and tangible sign of love.






Autumns Signature Pin

Fall leaves its calling card.

$7.00 5/8" Introduction 2008





Capful Of Forests Pin

Small beginnings flourish into splendor.

$9.00 1" Introduction 2008





Dancing Star Pin

Anointed with the oil of joy.

$11.00 1 1/2" Introduction 2008





Falls Farewell Pin

Gather the late blooms of summer while the melody of birds still fill the air.

$9.00 1" Introduction 2008





Falls First Flurry Pin

Small snowflakes swirl in the first licks of cold.

$7.00 3/4" Introduction 2008





Falling Leaf Pin

A piroutte in autumn's ballet.

$11.00 1 5/8" Introduction 2008





Love Token Heart Pin

Remember how much I love you.

$11.00 1 5/8" Introduction 2008





Lyre Pin

Begin the music, play the melodious harp and lyre!

$9.00 3/4" Introduction 2008





Sea Star Large Pin

Let heaven and earth praise Him, the seas and everything that moveth therein.

$9.00 7/8" Introduction 2008





Seal Of Faith Pin

Having believed, you were marked in Him with a seal, the promised Holy Spirit.

$11.00 7/8" Introduction 2008





Shell Heart Pin

The tender love between mother and daughter inspired this sweet heart.

$9.00 5/8" Introduction 2008





Tea For Me Teapot Pin

A cup for comfort and time to be.

$7.00 5/8" Introduction 2008





Tea For Two Teapot Pin

Ask a friend to come for tea.

$9.00 3/4" Introduction 2008





Teacup Pin

Coffee for morning. Afternoon for tea.

$7.00 3/8" Introduction 2008





Thy Kingdom Come Pin

Thy will be done on earth as it is in heaven.

$11.00 1" Introduction 2008